Haruka na Sora is the fandisc of Yosuga no Sora, it contains the routes of Kozue, Yahiro and a sequel route for Sora, plus short scenarios such as a karaoke route and the characters' introduction. The names of the routes are: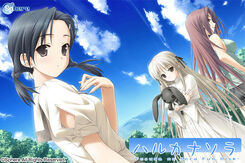 "I am in love with her even though she's a rigid chairman." (堅物な委員長だって恋するのです。) - Kozue
"We are incompatible? (相性が悪い二人?) - Yahiro
"The end of Azure." (蒼穹の果てに。) - Sora
"Let me hear your song." (君の歌を聴かせて。) - Karaoke
Info
[
]
It was released on October 24, 2009.
Image Gallery
[
]